All of the Pothos plants are extremely hardy and beautiful. These aroids grow as vines. They all have unique variations in texture, color and leaf size.
Pothos plant care is simple. These are a great beginners houseplant. Otherwise known as Devils Ivy since they are so hard to kill.
The Plant care for these lovely vines is easy. There is a wide range of conditions they can flourish in.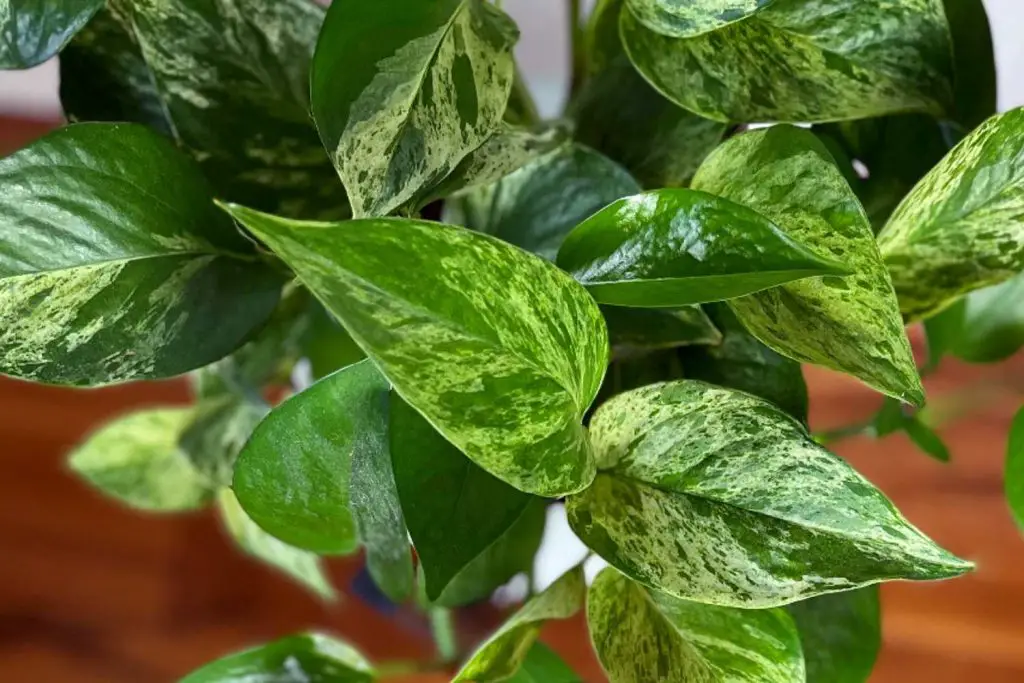 Pothos Growth Habits and Decor Uses:
All the pothos plants grow as trailing vines. Unless you prune them they will have just a few long trailers descending from the pot.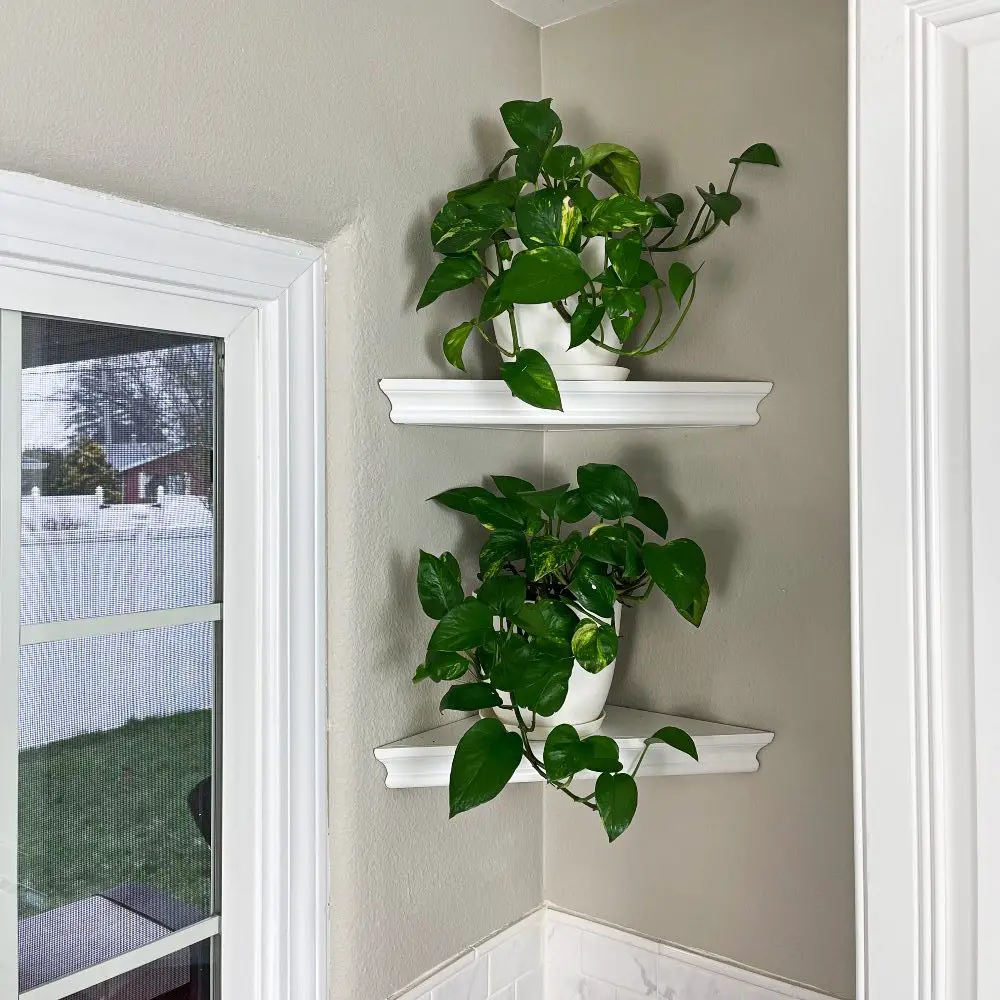 They make fantastic choices for hanging planters and baskets.
Devils Ivy can be trained up a trellis, pole or stake.
As a table top plant these trailers accommodate themselves to pruning and make gorgeous centerpiece plants.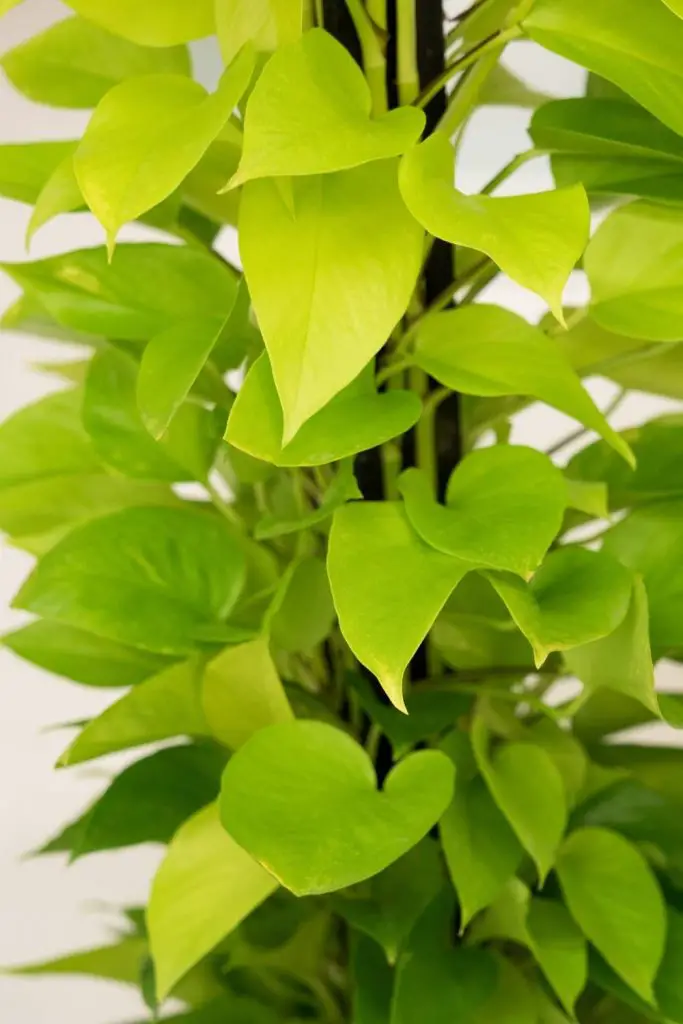 Pothos Varieties you will Love:
All Pothos as houseplants are jewels. These vines will thrive in conditions punishing for other fussier plants. Here are three of our favorite Pothos varieties.
With around 22 different varieties of this easy care house plant its hard to choose. These are a few of our favorites.
Pothos is known in various parts of the world as Devils ivy, Ceylon creeper, hunter's robe, ivy arum, house plant, money plant, silver vine, Solomon Islands ivy, and taro vine.
Epipremnum Aureum As Air Filters:
Plants and people go together. Live greenery is therapeutic for humans. All Pothos vines remove some impurities and toxins from your household air.
NASA recommends two or three filtering plants like pothos in 8 to 10-inch pots for every 100 square feet.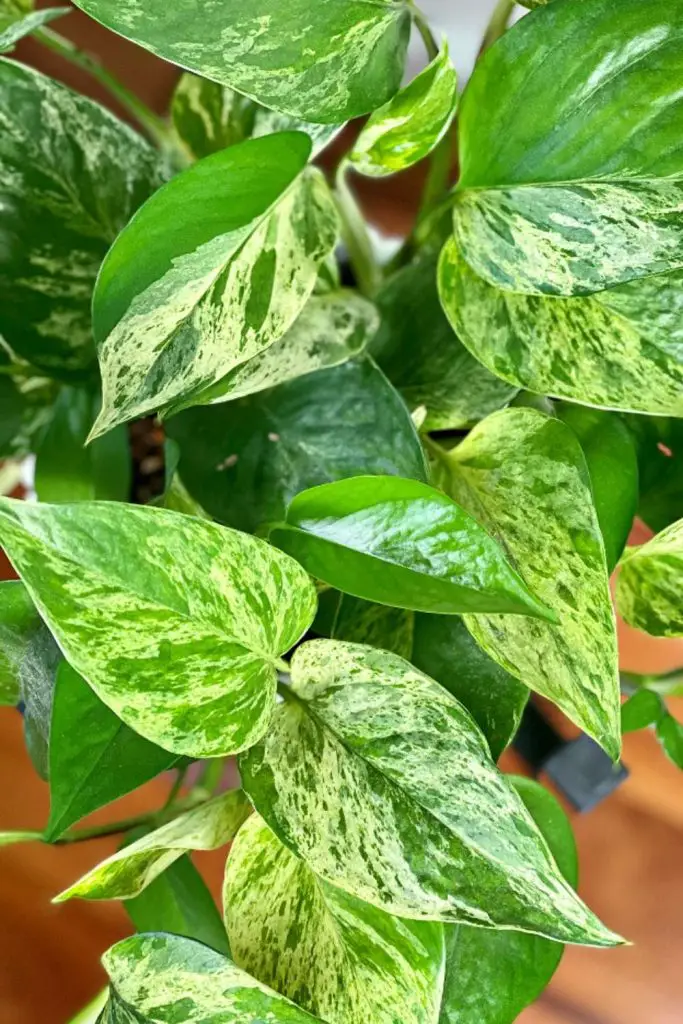 Epipremnum aureum Growth Pattern:
Pothos extend long vines from the roots with leathery heart shaped green leaves.
As the plant grows expect these trailers to cascade over the sides of your pot. From 2 to 8 feet long.
As Trailing Vines: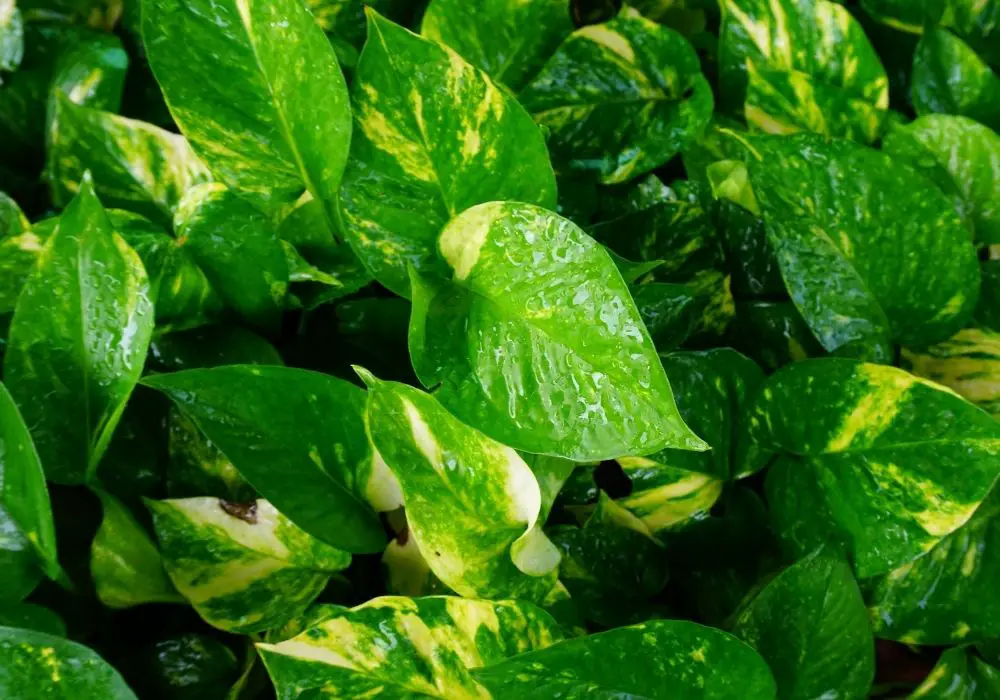 Encourage new growth to grow evenly around the plant by continuing to turn the hanging basket to the light source in the room.
Prune uneven or over long trailers.
These vines are great candidates for planting on walls and upper shelves in bright indirect light.
If you plan to put these on a shelf use just one trailer as you see below. you can cut the length of the trailers and force more growth from the top that way.
Staked:
These vines are so pretty staked. They can be vertical climbers if you get them started.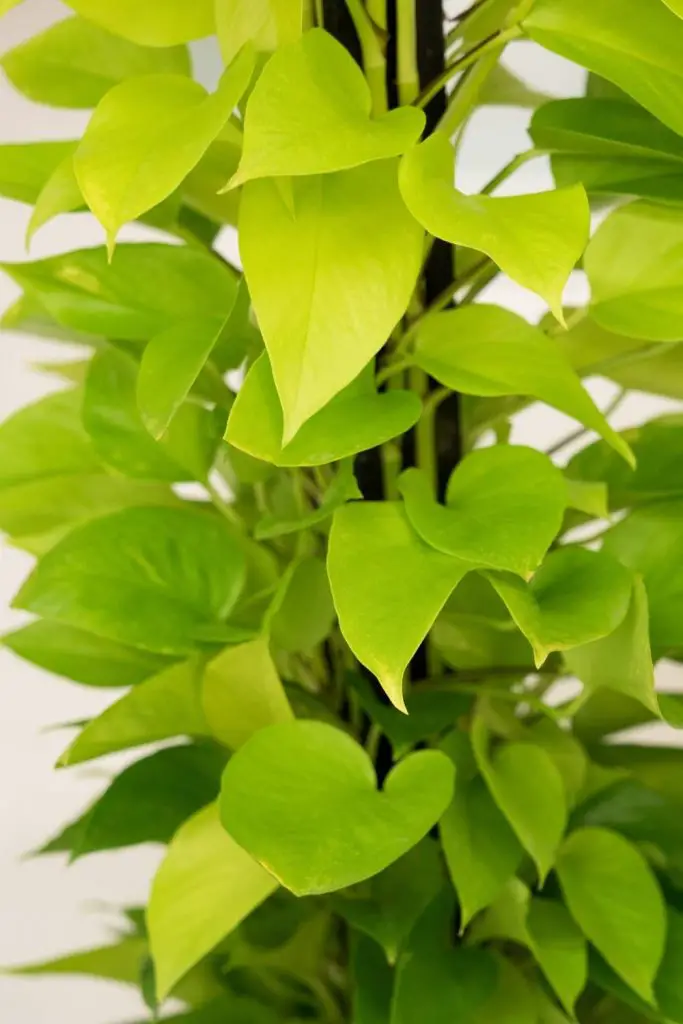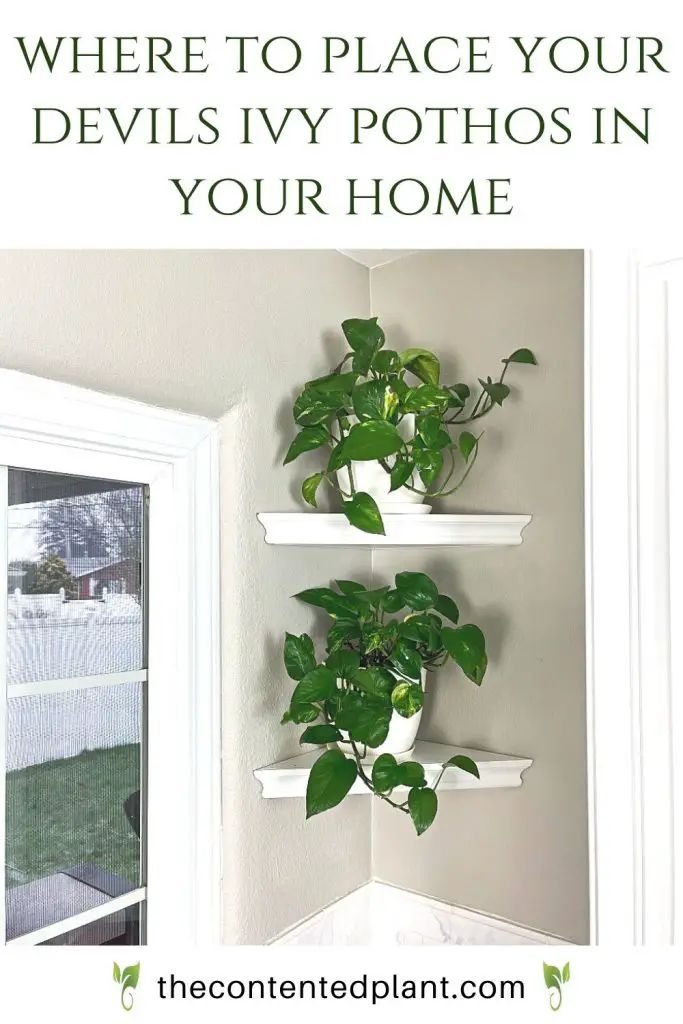 Devil Ivy Plant Care Guide Printable Card.
Devils Ivy care is simple. Follow our printable care instructions below for the general care needs of pothos.
Yield: Printable Care Guide
Devils Ivy Care Guide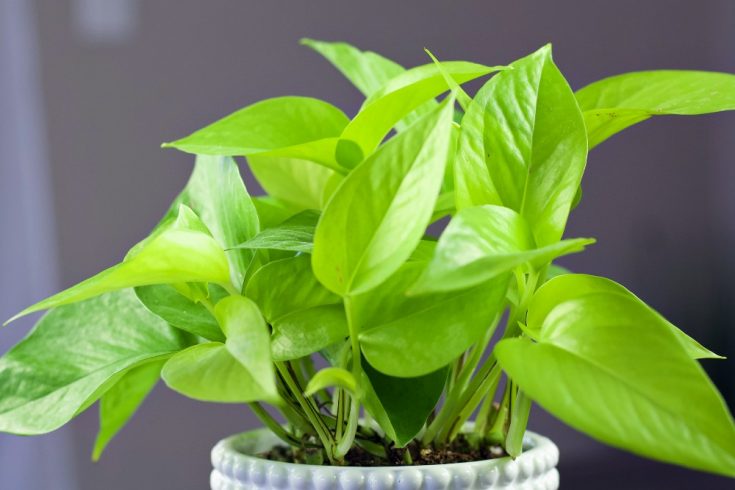 Epipremnum Aureum vines have only a few basic requirements to remain a happy durable plant.
This lovely vine is a perfect beginner houseplant.
Instructions
Soil Preference:
This aroid requires a light soil.
A mix of potting soil and perlite will keep the roots happiest.
Our mix for this pothos is 40 % potting mix to 60% perlite.
A heavy soil potting mix is not recommended for aroids.
Pot Size and Type:
Pothos vines can be grown in relatively small pots since they are fairly slow growers.
If you want to encourage faster growth choose a pot about 2 inches wider in diameter than the current pot.
Any well drained pot can be used. It MUST have drainage.
Repot every second year or when roots come out the drainage holes on the pot bottom To the next pot size up.
Don't jump to a huge pot from a small one unless you wish to encourage faster growth. Just go to the next size up pot.
Lighting:
The pothos vines enjoy indirect or dappled light.
It will tolerate lower indirect light it if has some brighter moments in the day.
This is dependent on the variety of pothos you are growing. The variegated types require more light to show off their colors best.
Some filtered sunlight from a window will be appreciated.
Shield this aroid from strong direct light in summer south and west sunny windows. The leaves will burn.
Tip: Window sheers or blinds can offset some brief periods of high direct light.
Watering:
Water your Epipremnum Aureum when the soil is dry down an inch or so. Aroids do not like to be overly wet. Try a watering schedule of every other week.
Watering is best done on a regular schedule so the plant is not over or under watered. Both can cause stress on the plant.
This tropical plant enjoys humidity. In dry climates this Pothos will thrive with a humidifier nearby. or set it in your kitchen or bathroom. For a really dry climate frequent misting will help.
In dormant winter months reduce watering to when the soil is dry down halfway .
Never let this plant get wet feet. If the soil is compacted the bottom of the soil can remain wet which encourages root rot and fungus gnats. If you see yellow leaves on pothos you are probably overwatering.
How to Fertilize:
Apply a good quality fertilizer (linked in materials) monthly through Spring and summer.
Decrease feedings by late Fall and allow the pothos to rest through the winter months.
Look for brown spots on the leaves of your plants. This may indicate an over concentration of salts in the roots from over feeding. It can burn the leaves.
Temperature:
Keep pothos at a low of 65 Degrees F. to upward of 85 Degrees F. It enjoys warmth and humidity.
Pruning and Training:
Pruning will give you a fuller plant with more even growth. Unpruned pothos will trail.
Sharp Hand pruners are preferred for pruning. They will give a clean cut that will heal quickly.
Table Top Plants:
It's easy to prune and shape these plants to whatever length and fullness you desire.
As a table top plant cut the trailers back evenly all around the pot. If you want the pot fuller add more starts of the neon.
Pests:
Pothos is not fussy and resists pests. However all plants can get attacked by pests.
Stress by longterm overwatering, poor light, extreme temperatures and soil conditions are contributors to plant stress..
Spider mites, mealy bugs, scale, thrips and whitefly are the most common houseplant pests you will see.
Read our post on How to get rid of aphids and other pests with our homemade pesticide soap recipe or neems oil.
To minimize the possibility of pests be sure to check all nursery plants before bringing them home.
Quarantine all new plants until you are sure no pests live in them.
How to Propagate:
Propagation is easily done through leaf node stem cuttings.
You need a 3 to 6 inch leaf stem with a couple of nodes and healthy growth.
Place the node into a jar with water. Use tap water that has settled 24 hours in the jar to dissipate chemicals harmful to the neon.
Set the jar in a well lit area.
After several weeks roots will grow. Allow the roots to get an inch or more in length.
Plant gently and firmly into pot with proper soil mix.
Make sure to keep the soil moist until the roots begin to set into the soil.
Notes
watch our video below for more on pothos propagation.
Extra Notes on Watering:
These vines enjoy humidity but can live happily in drier indoor climates with an occasional spritz of water on the leaves.
Overwatering shows up as yellowing or dropping leaves. If this happens, check for pests as well. If no pests or pest damage are found on the leaves you are overwatering.
Under watering or inconsistent waterings can cause brown spots on the leaves. So can over fertilizing so beware of that too.
Overwatering or a heavy potting soil can cause root rot.
I use Miracle grow potting mix. It works great on all my Pothos. 0.25 – 0.13 – 0.19 is the nutrient analysis. Mix it with Perlite 60/40 for a lighter mix.
Read our complete guide on how to propagate Epipremnum aureum
Read our post on how to get rid of Aphids and other pests for strategies to prevent reduce pest exposure on your house and garden plants.
Invasive Species Warning:
This family of vines are all called devil's vine or devil's ivy for a reason. This vine is almost impossible to kill if naturalized in tropical climates. It can quickly become invasive.
Toxicity:
Keep in mind All of the Devil's Ivy varieties are toxic to pets and mildly toxic to humans.
To Humans:
To Pets:
The Devils Ivy plant is toxic to cats and dogs. It is listed by the ASPCA as having Insoluble raphides.
Please ensure the plant parts are not chewed by pets.
Symptoms may include oral irritation, vomiting, and difficulty in swallowing.
Follow Us:
Come see what we are up to on Instagram, Youtube, Pinterest and TicTok! We love to plant chat on our social media accounts. Ask us questions, tag us in your posts! We enjoy commenting, liking and sharing your relevant images to our stories.