There are several ways to propagate pothos cuttings. The two methods most often used by plant enthusiasts are water or soil propagation.
Pothos Plants of all kinds are well loved in homes all over the world. Learn all about pothos and their plant care in this post.
When you have one you will want more. Propagate your own!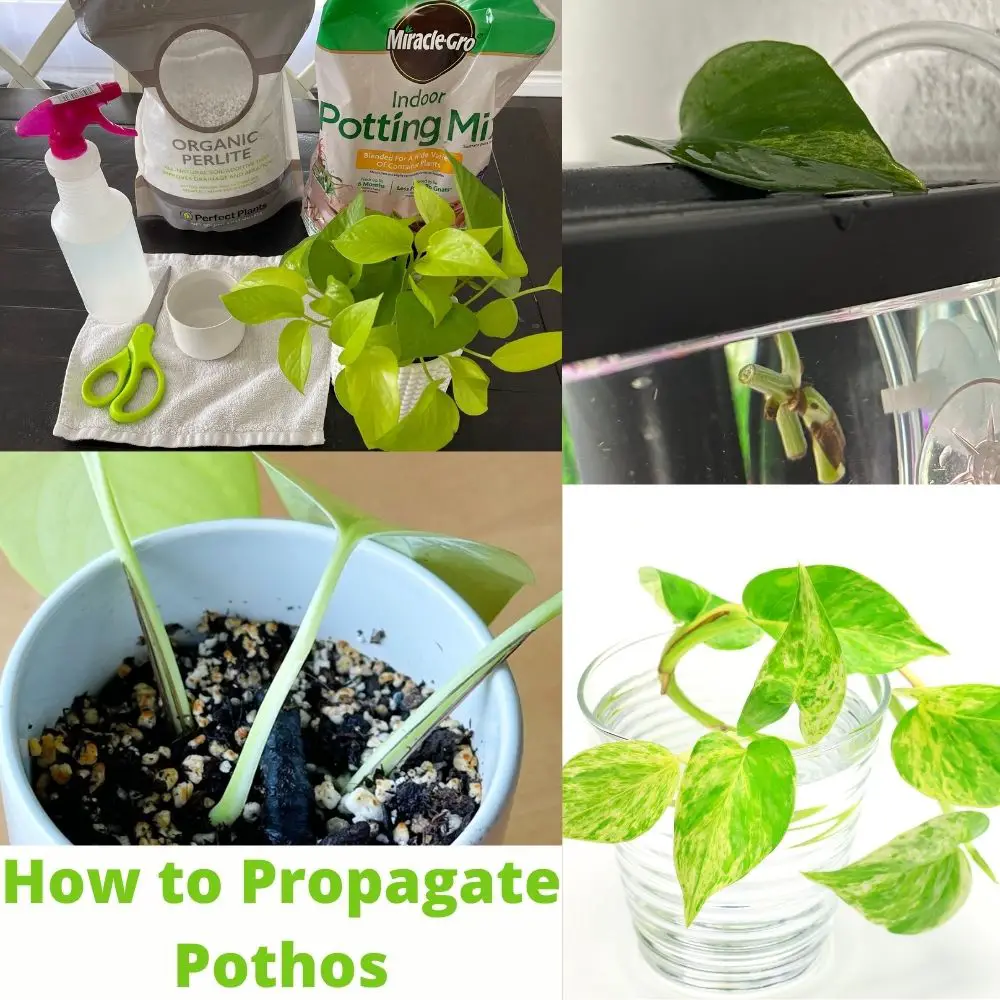 Pothos (epipremnum aureum) Propagation:
There is no need to use rooting hormone for pothos. They are usually prolific growing plants with plenty of energy and resilience.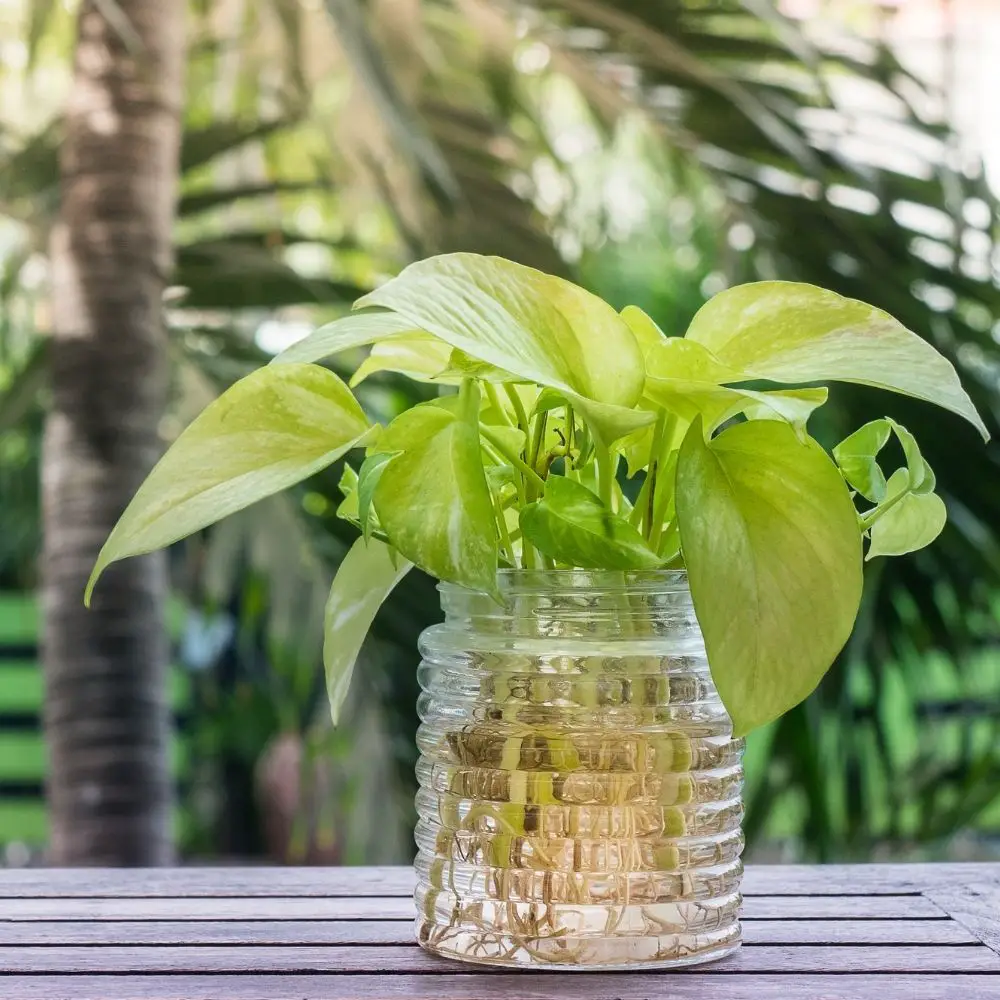 When you see a pothos vine it can be trimmed into a bushy table plant or let grow into long trailers as a long vine.
Pothos grow new trailers easily with little encouragement.
Where to Cut Pothos to Propagate:
It is simplest to propagate from a trailing vine. You only need one or two healthy pothos leaves with good nodes with aerial roots.
Internodal Zone: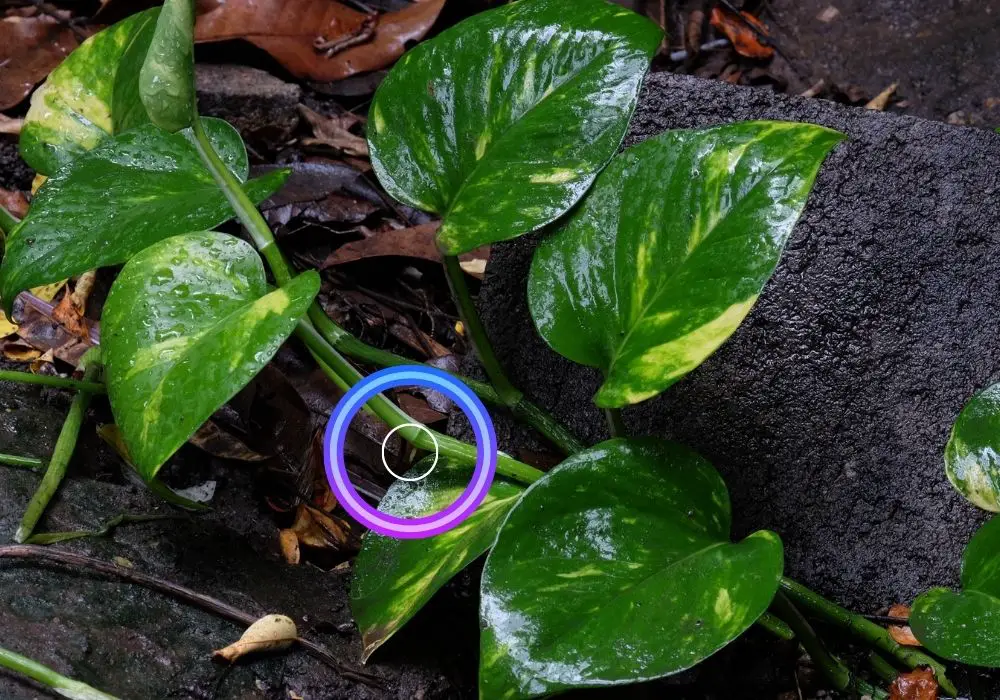 You can see the nodes on the vine pictured above. They are the swellings right by the aerial roots.
You are going to cut the stem in the internodal zone. This means you cut BETWEEN the nodes.
Trim the stems into sections. Each stem-section cutting should have a rooted node and at least one healthy leaf.
Cut a longer section with three nodes, roots and leaves if you want a longer stem.
Whichever method of propagation you choose, cut the pothos in the internodal zone.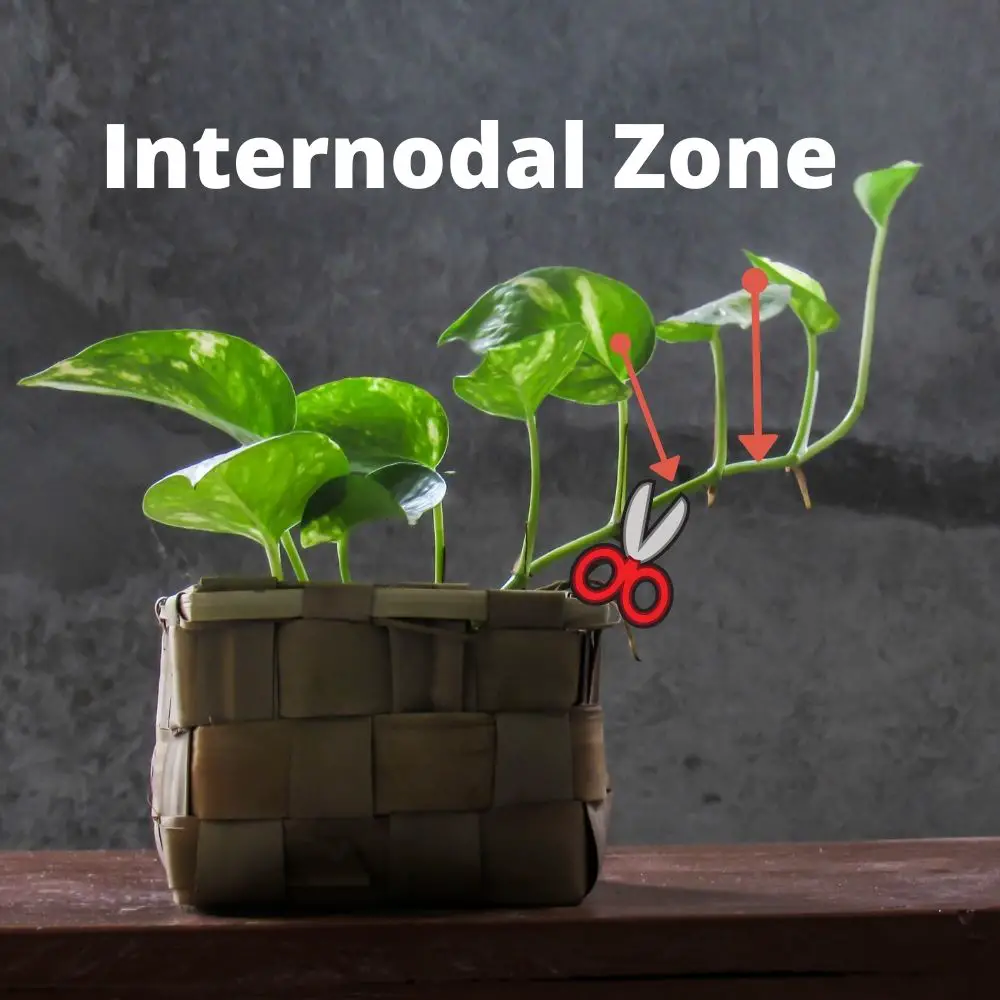 Propagate Pothos In Water:
I normally propagate cuttings in water. I have great luck with this method.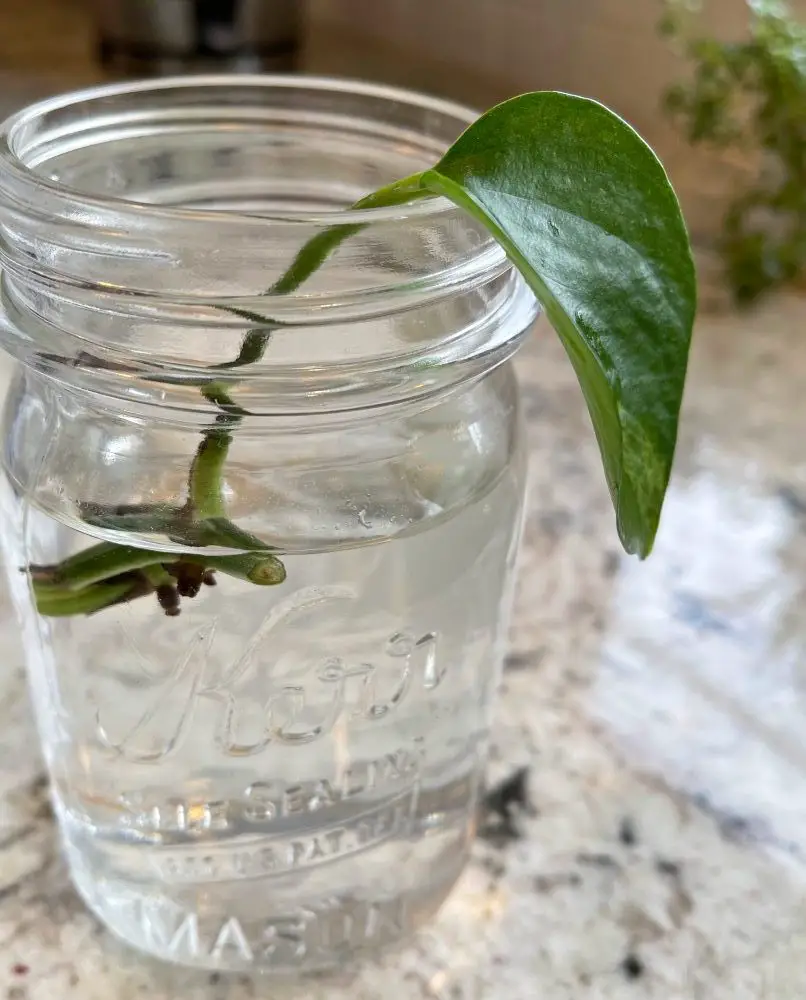 Caution: Do NOT propagate in fresh tap water containing Fluoride, bleach or other chemicals.
Be sure your tap water is neutralized of chemicals. Allow it to sit 24 hours in an open container before using tap water to propagate plants.
Growing Pothos Hydroponically: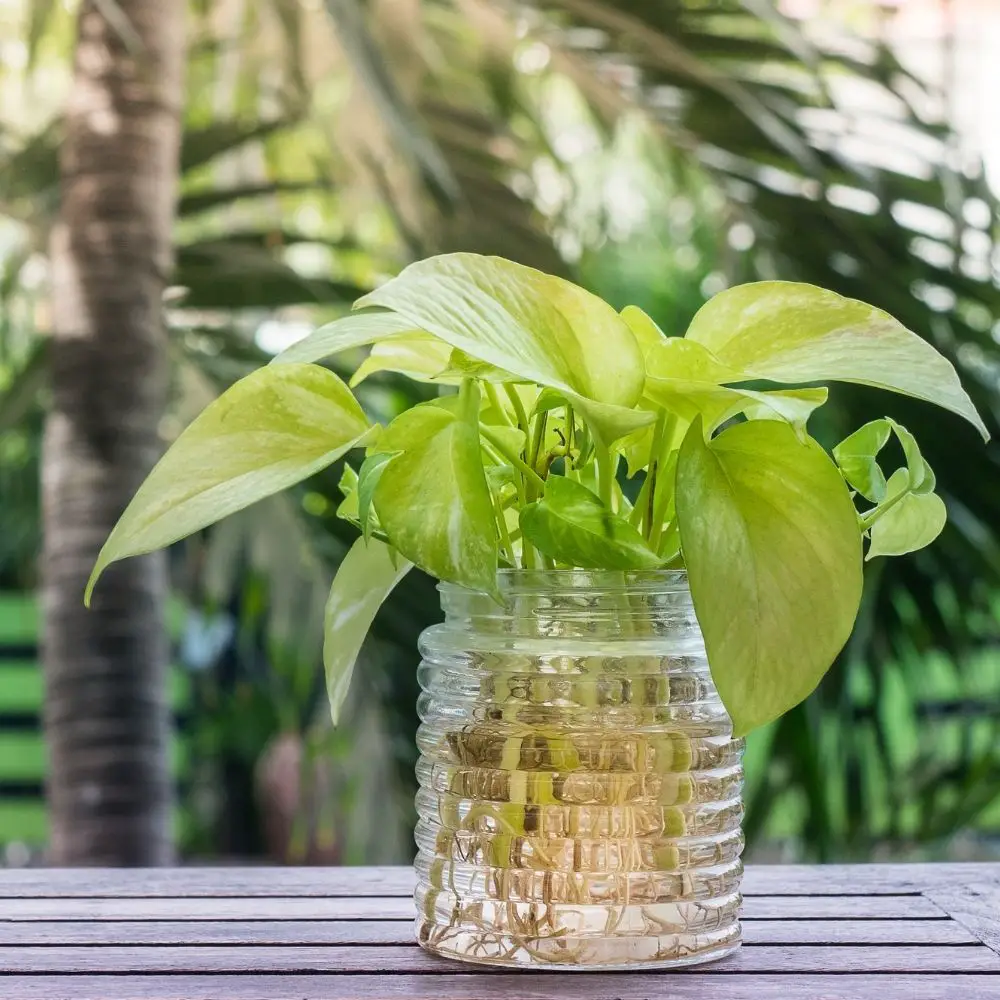 Pothos roots will grow in water indefinitely. Grow them hydroponically if you wish.
They will thrive in a vase with an occasional light dose of liquid fertilizer.
Pothos Propagation in FreshWater Fish Tank: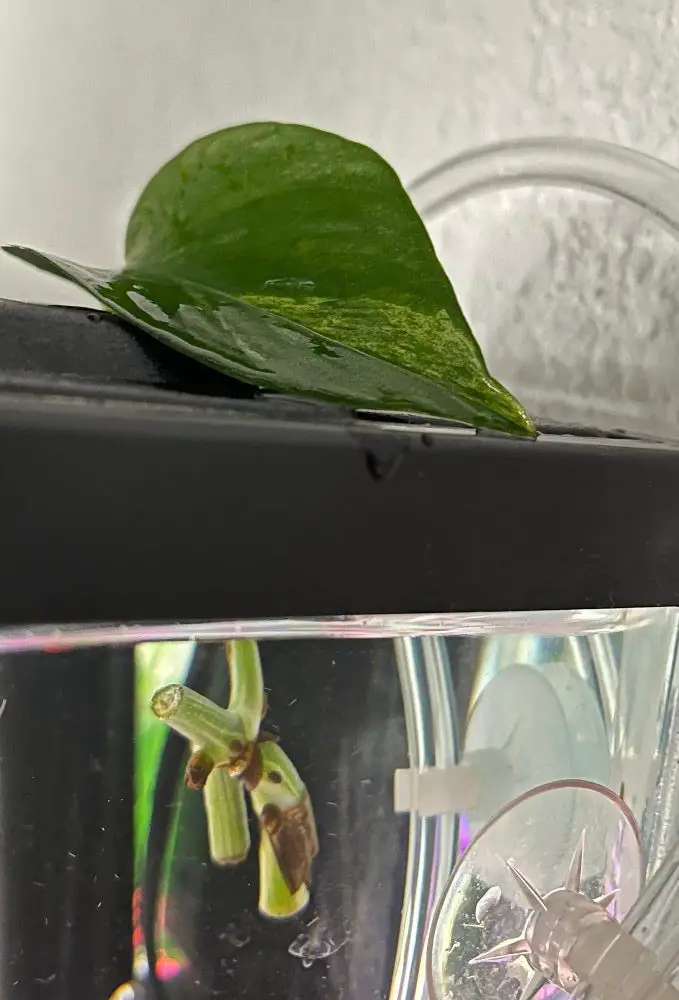 Pothos enjoy growing with its roots in a freshwater fish tank. Leave the vines to grow hydroponically in the tank for as long as you want.
Fish water is full of the nutrients Pothos enjoy. And…as pothos vines grow they use up the nitrates in the water that harm fish.
Propagate Pothos In Soil: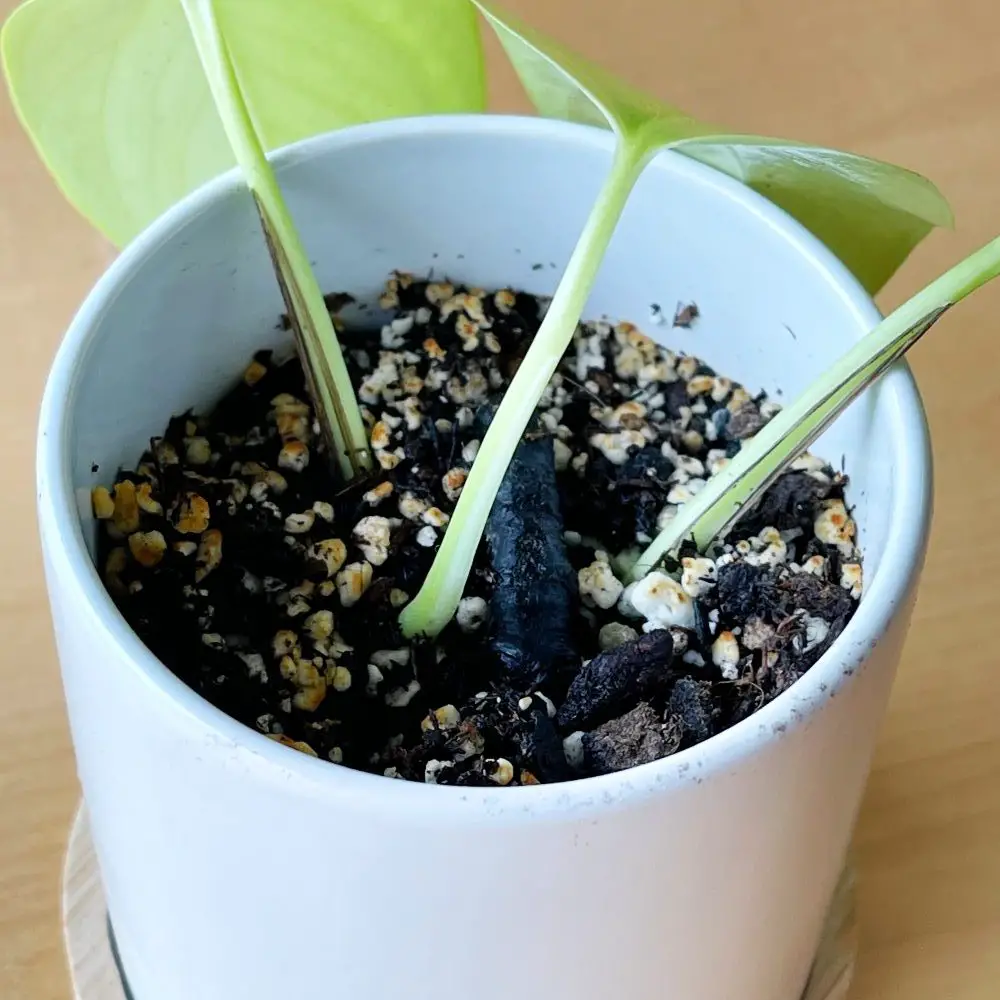 Tips:
Be sure your potting mix is NOT high in fertilizer. Or the cuttings might burn.
I mix perlite into my potting mix. (See DIY card and video)
The roots need moist soil until they begin to absorb nutrients and grow on their own.
Once the plant starts show new growth begin normal watering schedule.
look for signs of new growth on cuttings.
Your Printable DIY CARD:
Here are the complete instructions, materials and supply list you need.
For more information: At the bottom of the card Please watch my video on Pothos propagation. I go through the process there as well.
Yield: pothos plantings
How to Propagate Pothos Plants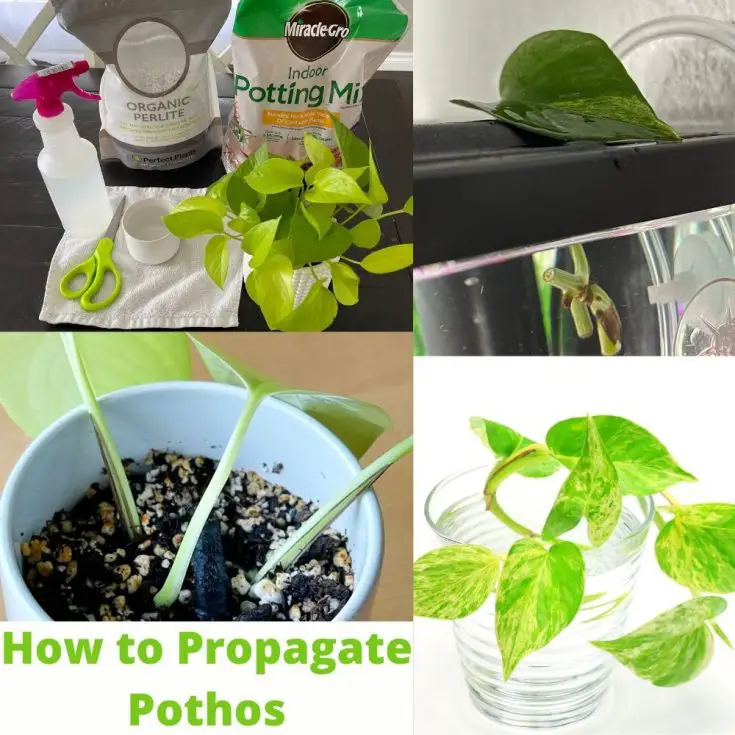 Either soil or water propagation work well for making a new pothos rooting. It's easy to create new plants from your favorite pothos.
Instructions
Make your soil mix:
I use a 40/60 blend of soil mix and perlite.
So for every cup of soil mix you will need 4 oz or potting soil and 6 oz of perlite. (you can adjust this balance as you prefer). This light mix will keep the starts rooting without fear of root rot.
Prepare your cutting:
Wipe down the blades of your cutting utensil with the rubbing alcohol.
Cut the vine in the internodal zone*. You want a healthy leaf or two on the stem.
Plant Root Node:
Fill your small pot with the soil/perlite mixture to within a half inch of the pot lip.
Use finger or pencil (eraser end down) to create a hole of 1/2 inch or so deep in the soil. (see video for more detail)
Gently press the node and root into the hole.
Press soil firmly around the root to hold it in place.
Water the soil completely until it is moist through but not dripping.
Press the root again into the soil to completely support the root cutting.
Water and Light:
Set the pot in strong INDIRECT light.
Keep it watered LIGHTLY until the leaf shows strength and new growth appears.(this can take several weeks)
Water Propagation:
Cut the vine as directed above.
Set the rooting in any available clean glass or clear plastic container filled with filtered water(or fresh water fish tank).
It will grow roots within several weeks.
Keep the water level above the node and roots.
Notes
*The internodal zone of the vine is the area on the vine BETWEEN the nodes.