Hundreds of dazzling Coleus Varieties add intense tropical color and texture to annual landscaping. Plant them in your yard, patio containers or grow them indoors.
Coleus cultivars will grow well outdoors year round in climate zones 9 to 10.
They add amazing color and texture to your landscape in large groupings. Coleus plants will happily fit into your plant world in some way or other.
Lots of coleus varieties will fill your beds and containers with colorful foliage.
Grow them as fast growing annuals in colder climates with winter temperatures below 50 degrees F.
When night time temperatures drop into the low 60 degrees in Fall, bring your coleus planters inside for the winter months.
Or let them die off and plant a new color scheme in the spring.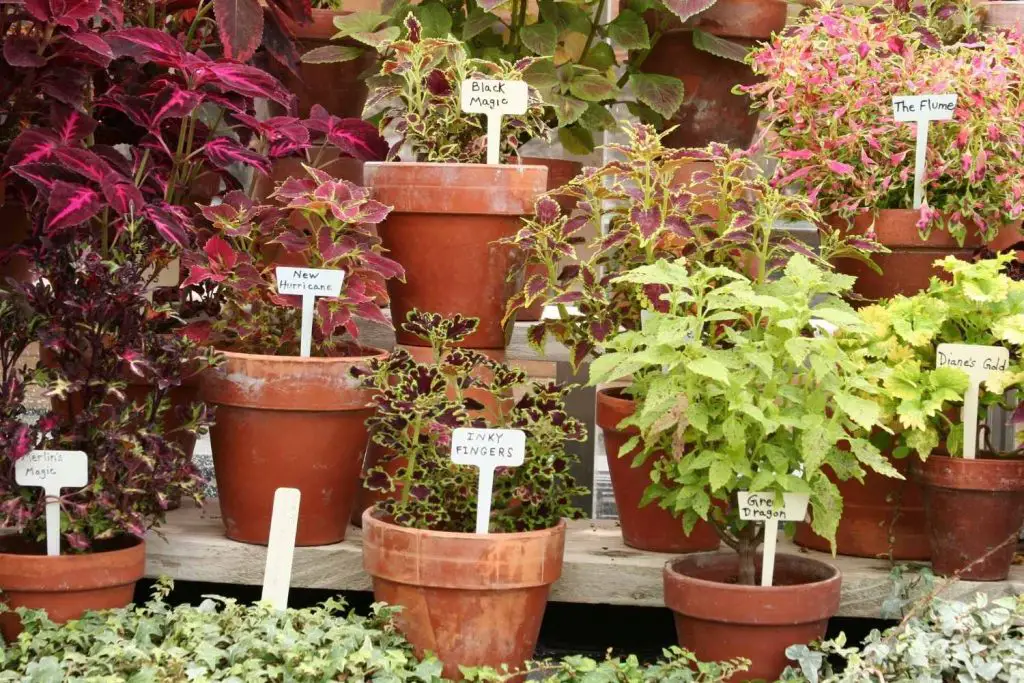 Coleus Outdoor Planting:
These plants do well as both live starts and as seeds plantings. Coleus will survive outdoors in spring as soon as all danger of frost is gone.
Plant coleus seeds indoors 8 weeks before the last frost date in your area.
These plants will grow fine in a planting tray or jiffy pods. Use a grow light to help them along if you live in a dark northern climate.
Look at the seed packet for planting instructions for the coleus variety you are growing.
Different Coleus varieties offer different leaves shapes, sizes and colors. They also grow in different conditions.
The Premium sun series coleus cultivars will tolerate full sun.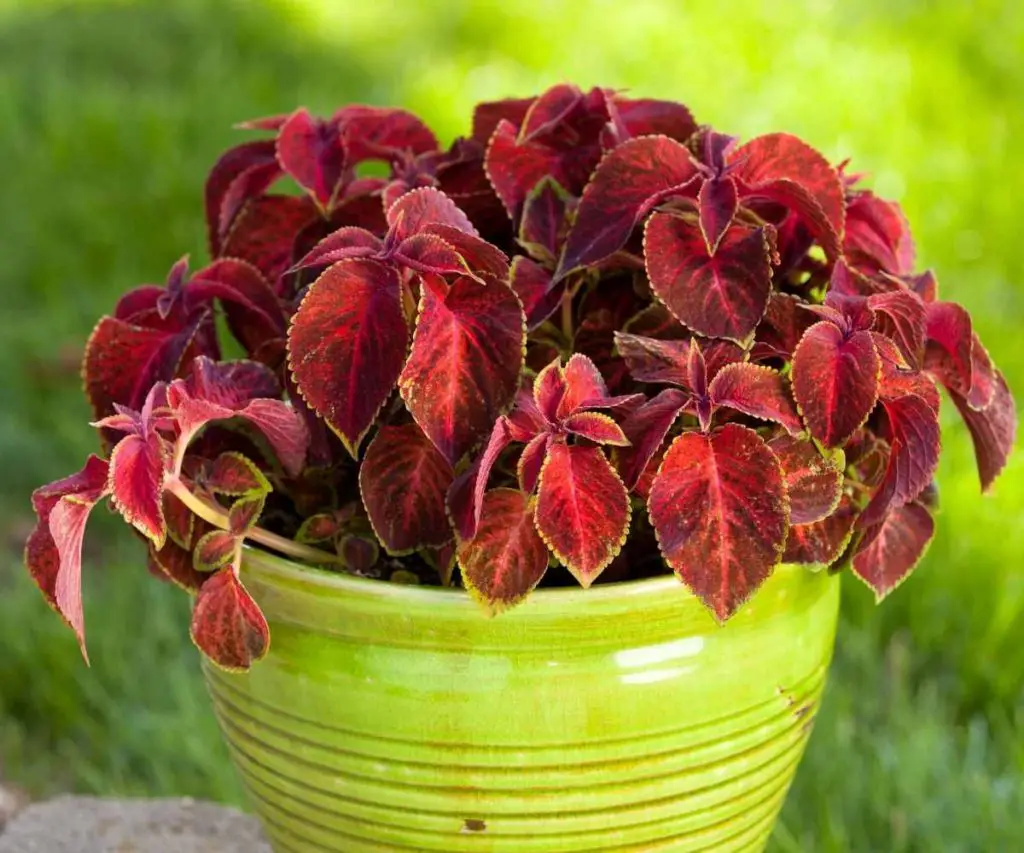 Look for these Labels for full sun varieties:
Fairway coleus are dwarf cultivars from 6 to 10 inches tall. They make great full sun border plants. Or mix them in containers with other full sun annuals and enjoy the show.
Wasabi coleus
ColorBlaze coleus
Redhead
Coleosaurus
Henna
Red Carpet
Box Office Bronze
Blonde Bombshell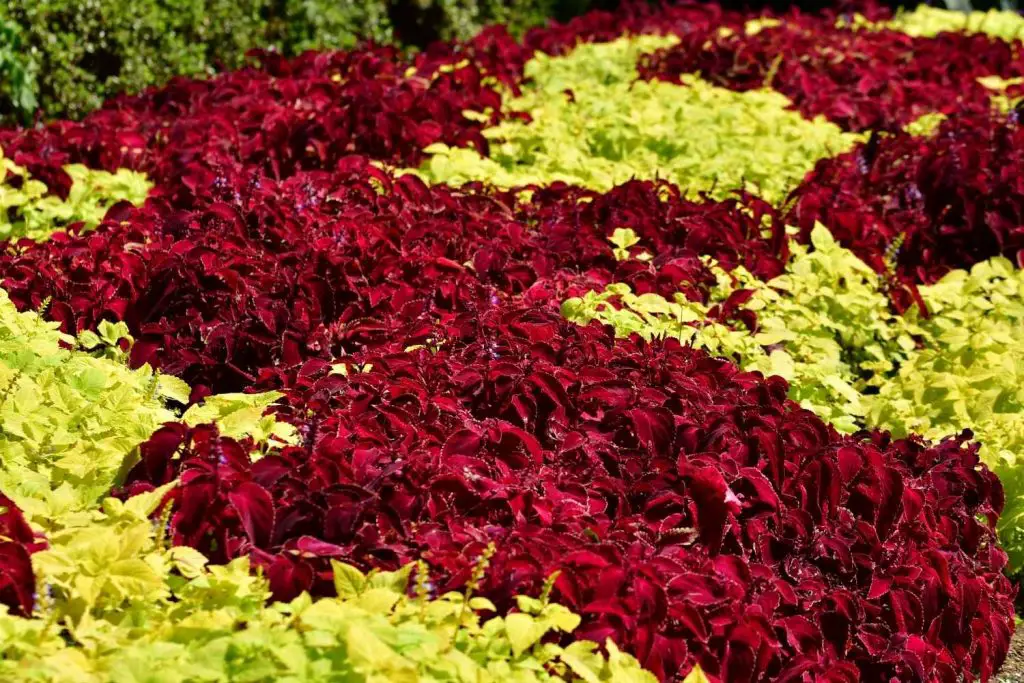 Coleus will often tolerate stronger light or more intense shade to some degree with good care. But the foliage colors may not be ideal.
Too much sun or intense heat can make the foliage of some coleus fade. Choose varieties that match your conditions for best results.
Most coleus varieties I have planted outdoors over the last few decades do well in light shade or morning light as annuals.
Wizard Series: are easily propagated by seed and make great small annuals for baskets and patio plantings. They will do well in shade and can handle some sun.
Kong Coleus: Plant the Kong varieties in morning light or shady areas with lots of room. Kong coleus are absolutely beautiful with large 6 inch showy leaves.
Coleus King Rose, kong salmon pink,
The plant grows to two feet high. Keep these coleus in light shade. They don't like strong direct sunlight.
Black dragons: Black dragons do well in light shade. Too much sun will bleach the intense colors out.
Best Coleus Varieties for Deep shade:
Most coleus enjoy light shade outdoors or strong indirect light.
These varieties will tolerate strong shade.
honey crisp
cranberry bog
stained glassworks molten lava
stained glassworks molten eruption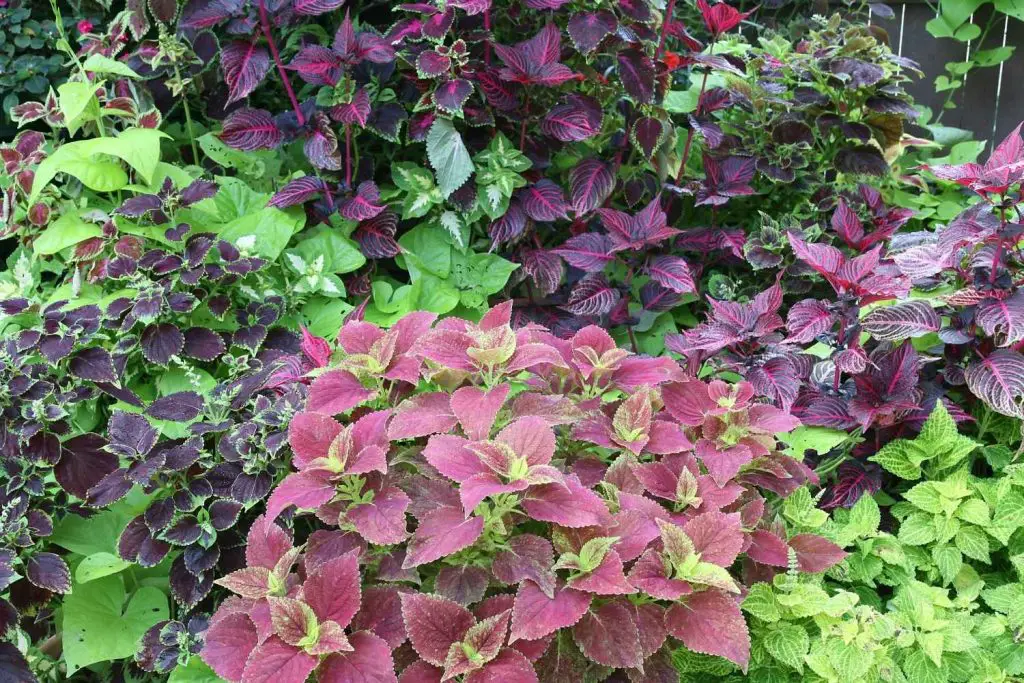 Create a lovely space for yourself. Add Coleus plants to your world.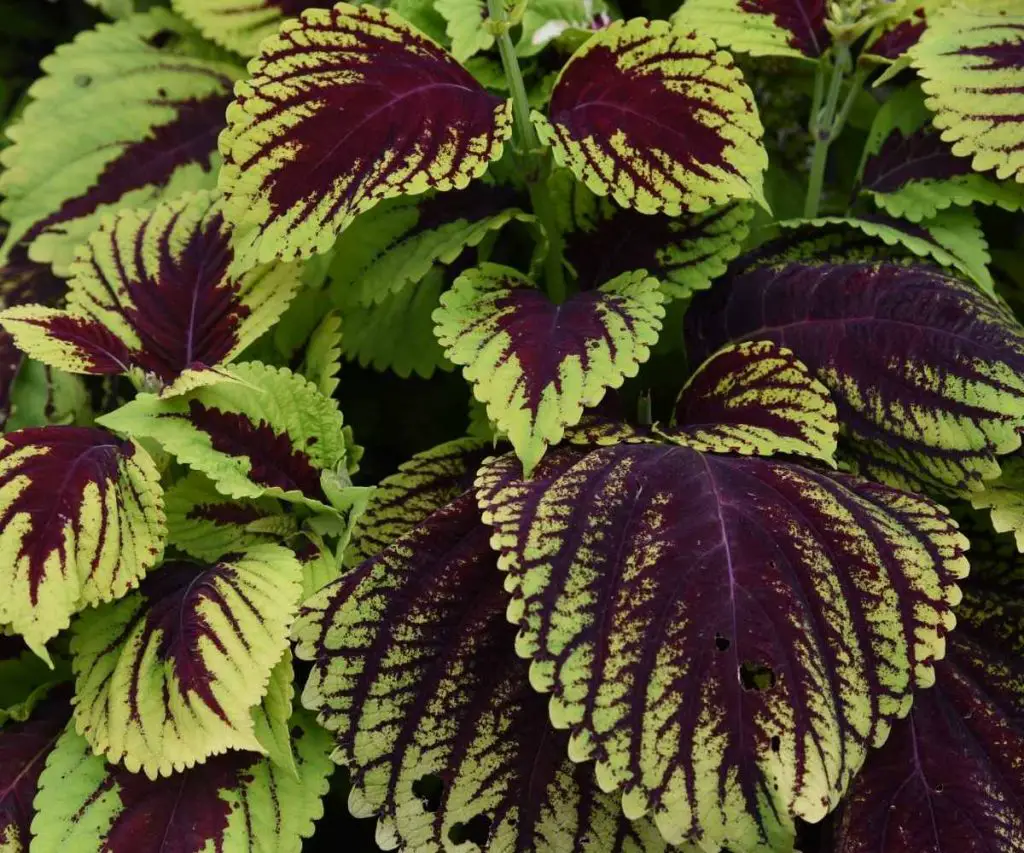 Tips for Growing Coleus Indoors:
Any low light coleus will grow fine indoors. The molten glass works series is popular for the home. They will enjoy strong indirect light in your home.
Lots of Coleus varieties make easy care houseplants.
Coleus should be pinched back (like the polka dot plant) if you want the foliage to be bushy. Coleus tend to get leggy.
Look at the picture below to see where to pinch it back. Coleus plants will reach for light so you need to pinch them back and offer more light if you see your plant getting long.
You can also pinch back your coleus to keep it shaped for a table top plant.
If you plant trailing varieties like the Meandering Linda in hanging basket the trailers will grow over the hanging basket and provide a stunning display of riots colors.
Be SURE to turn the basket every time you water to keep the plant growing evenly around the basket.
Trim off uneven growth to shape your basket attractively.
Water regularly but do not allow coleus roots to get waterlogged.
Final tip for all Coleus varieties. Coleus plants do produce small blue flowers on long stems. You can leave the flowers on but it will suck a lot of energy from the leaves and weaken the stem.
To encourage strong growth through the entire growing season pinch off the flowers. This will lengthen of the plant life in containers too.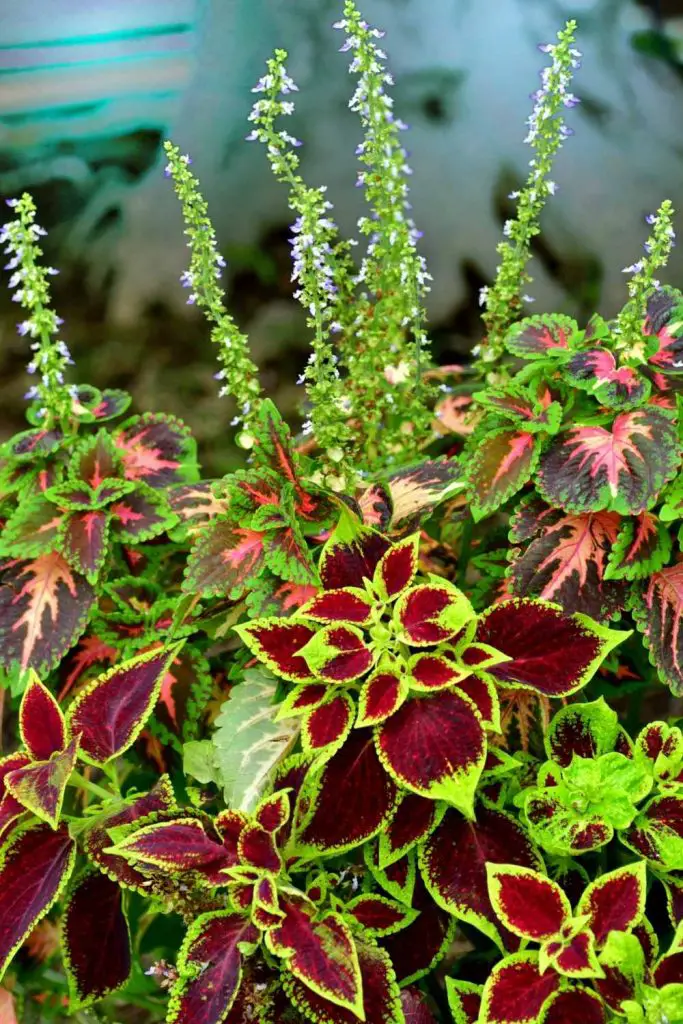 Blue Coleus Plants:
The hundreds of Coleus cultivars offer amazing diversity of texture, color and verve. They come in MANY varieties, colors, sizes and leaf patterns.
You will see LOTS of reds, greens, multi colored purples…new coleus cultivars pop up all the time in plant stores.
BUT none of them are blue.
If you see a fantastically exciting blue coleus online, don't buy those seeds. Like the Blue String of Pearls and many other images of Blue plants, these are photoshopped fakes.
For example this is a link to a fake Blue Coleus shop on amazon. They sell seeds that are supposed to grow the blue coleus pictured. The review will tell you the plants don't grow blue. Don't buy from this shop!
We do live in a buyer beware world.
Toxic Plants:
All coleus are moderately toxic and should not be available to pets or children.
Related Content:
Follow Us:
Find us on YouTube, Instagram , Pinterest and TikTok! We love to Plant chat. We also comment, like and occasionally share your content to our daily stories. We'd love to see your plants. Share your joy in your houseplants. Happy Planting!
Recent Posts: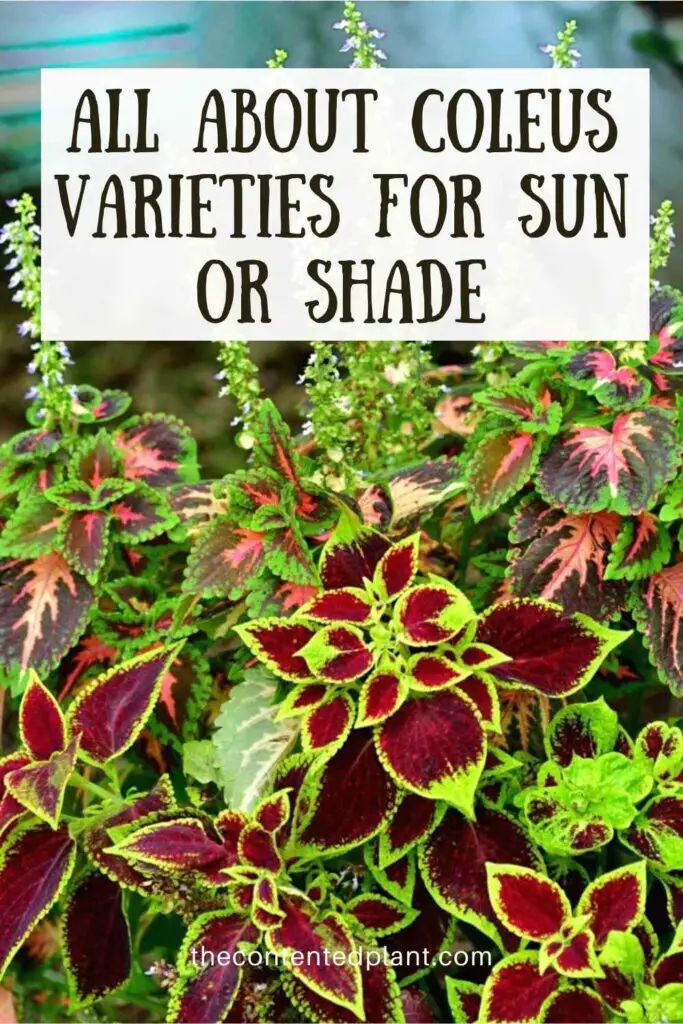 More on Coleus plants